Collaborative email for maximum responsiveness and efficiency
Designed for teamwork, Welkom Editor helps you react quickly and efficiently to email production through its many collaborative features. Simplify your email creation processes without wasting time.

Respect your graphic guidelines
Autonomously save and lock in your design elements to ensure compliance.

Centralisation of creations
All email messages and content securely stored in a personal library.

Collaborative email creation
Everything you need to engage several people in email creation and leverage the collective intelligence of your team.

Collaborative workflow
Integrated validation, comments and approval systems to reduce your production time.
Increase collaboration and the quality of your email productions
Shared library of email templates and content blocks for endless reuse
 Complete corporate identity email elements and templates with a locking system to ensure compliance with your graphic charter by different people in your team
 Shared image library to centralise and re-use your message visuals
 Shared creation and simultaneous production of email messages
 Classification of your email creations by folder for better organisation of your work
 Unlimited backup of all your email messages so you can keep track of all your creative work, even if you change your routing solution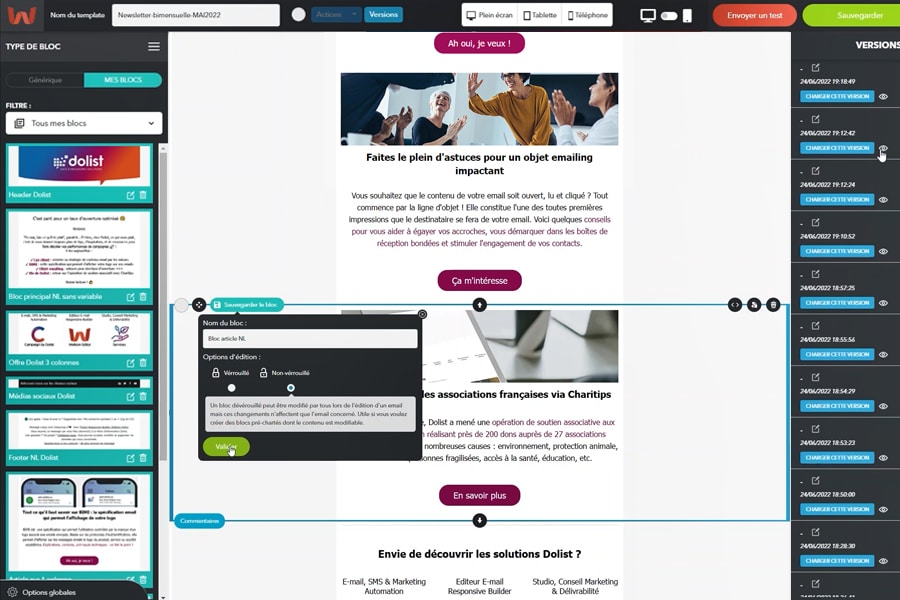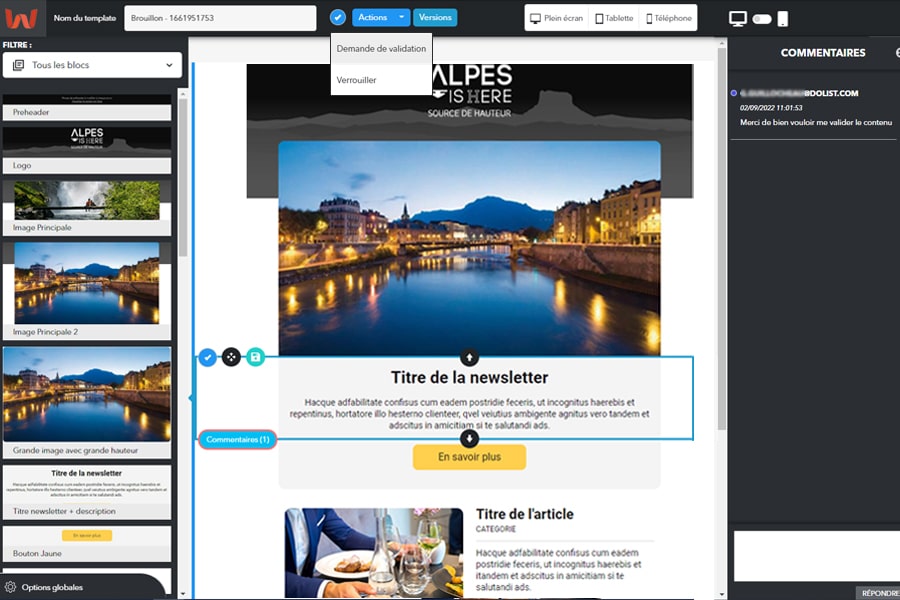 A smooth email creation process for your teams
Tracking of modifications made to an email creation
 Versioning system to go back to previous versions of messages in just one click, if necessary
 Integrated sending of BAT (final test sending) to any email address
 Centralisation of comments from different members of your teams on email messages in the process of being designed
 Collaborative workflow for validating the BAT (final test sending) of your emails with an approval system for all or part of the messages
 User rights management with different levels depending on the role of the people on your team (reading, writing, editing, administration)
FAQs on Collaborative Email Production with Welkom Editor
When using Welkom Editor collaboratively, how can I ensure that the graphic design is respected by the other collaborators?
When you create an email in Welkom Editor, you can choose to lock all or part of the content blocks contained within the email.
Therefore, a locked block can only be modified by its owner and all modifications are automatically reflected in the emails using it, such as the header or footer which can be common to several emails.
Once saved in your personal library of customised blocks, other users can easily reuse these design elements and are informed that the block is locked by a "padlock" icon. This ensures that your design is fully respected.
The number of saved and locked blocks is unlimited, allowing you great flexibility in the proposed layouts and greater reactivity when deploying your campaigns.
This is one of the strengths of Welkom Editor. All of your email creative is centralised in your account and can be duplicated endlessly. No matter if you change your email routing system or use multiple systems, Welkom Editor brings all of your email messages and associated visuals into the same space.
To create a new message, you – or any member of your team with the appropriate rights – can start with an email message which has already been created, and then duplicate and modify it as needed.
You can also start from an email template you have previously created and saved in your personal library of message templates, and do so entirely on your own. Alternatively, you can use your library of recorded content blocks.
Improve the speed of execution in the way you see fit.
You have 3 personal and collaborative areas within Welkom Editor. These are accessible to your different users (depending on their rights) to facilitate your work and organisation:
A library of personalised email templates which hosts all the templates you have previously created and saved independently as well as those you may have had made by our Design & Digital Studio. See here the services they can provide..
A library of customised content blocks, which you can access directly from the message editor in order to quickly select and drag the elements which interest you into your email design space.
Your image library, which contains all of the images uploaded to it and used in your messages.
As a client and in accordance with the regulations, all the data in your Welkom Editor account is available and kept for as long as the client relationship lasts. At the end of the contract, you are responsible for retrieving this data prior to the deletion of the account on the date of termination. Once the account is deleted, the data is stored for a period of 3 months before being permanently deleted..
Welkom Editor has built-in rights management which allows you to assign different levels of usage rights based on the role of the people on your team.
Reading, creating, deleting, for one or more email creation folders or for all folders… You choose which rights a given user has.
A collaborative workflow system is integrated into our Email Builder to facilitate the validation process of creations made in the tool. It includes :
Integrated BAT (final test sending) sending to any email address. It is instantaneous and unlimited.
A validation mechanism allowing you to authorise, or refuse, all or part of an email message.
A comment feature on your designs where each person in your team can share their feedback on all or part of the message. This allows them to write a note on a particular piece of content. This is then reported to the creator in a "comment" tab and it can be replied to.
A versioning system allowing you to see and return to a previous version of the message which has been saved (either during automatic backups made by Welkom Editor or during backups made manually by the creator).
Discover the other features of Welkom Editor