Dolist solutions for sustainable, relevant and responsible communication
Dolist has been a specialist in email/SMS routing and data synchronisation since 2000.​ Our offer combines "made in France" technologies with marketing and connectivity/API support services.
Alongside the Welkom Editor Responsive Builder email, Dolist offers :
Campaign: an email & SMS platform to design, optimise and securely address all types of messages (marketing, automation, transactional), while promoting deliverability, compliance with the GDPR and responsible approaches.
 Specialised support services : API/Data connectivity, deliverability, Tech & Design Studio, consulting, digital responsibility, training, Customer Success Management.​​
 Marketing and operational support on standard market platforms : Salesforce Marketing Cloud, Pardot, Adobe Campaign, Hubspot…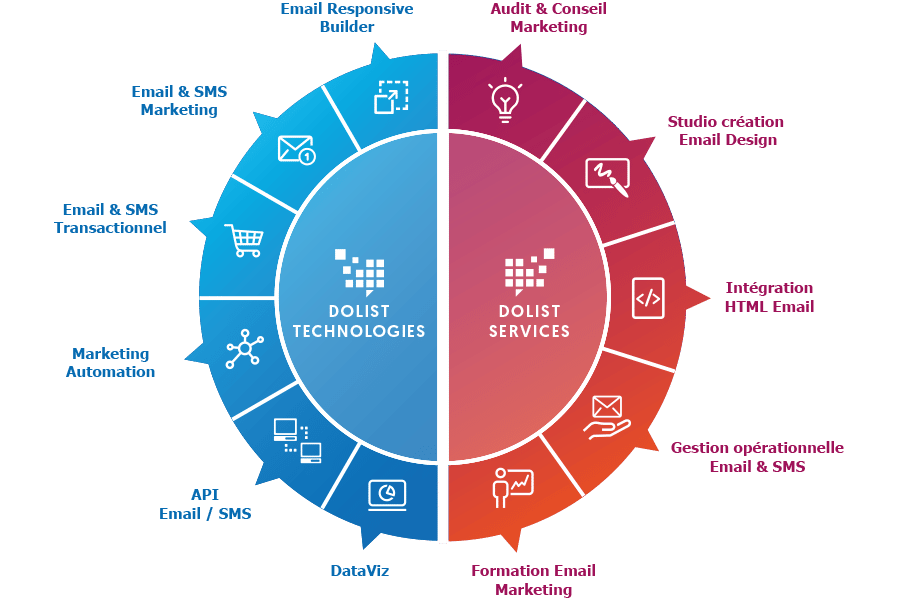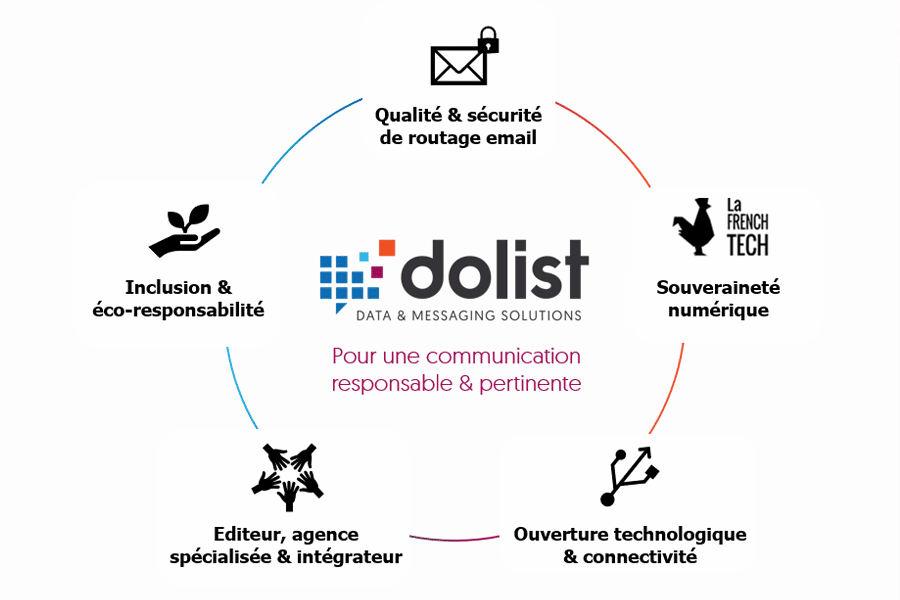 French Tech solutions with teams, development, data and upload servers based in France
Tools and services working to respect Internet users,, consent and the GDPR​
Technical foundation tested, optimised and monitored for data security
Promoting technological independence through strong connectivity
Pioneer Pioneer in SaaS software specialising in email quality and security
Automated routing protocols combined with real-time deliverability monitoring by a dedicated teame
R&D and know-how supported by involvement with recognised organisations (Signal Spam, M3AAWG, ISPs/MSPs)
Specific support to obtain the best possible reputation with ISPs/MSP
Numerous secure data exchange methods to integrate with information systems (CRM, CDP, ERP, e-commerce, etc.)​
Technical support services to connect and/or integrate the platforms with other information systems.
A Customer Department to support our customers in the use of the tools.​
Services for campaign implementation and optimisation of marketing strategies (digital studio & design, consulting, deliverability)​
Support for data connectivity synchronisation and technology integration.
Training courses to improve your skills in email marketing, contact management, automation, HTML email, etc.
Actions to promote our customers' Corporate Social Responsibility (CSR) initiatives: digital accessibility, carbon impact, email eco-design, digital sobriety, optimised data management (minimal data and security)​
Signatory of Numeum's Planet Tech'Care
Employees involved, aware and trained in responsible digital practices​
Committed to a global CSR approach : professional equality, employee well-being, measuring and reducing the carbon footprint, choosing responsible service providers, etc.
They are the ones who speak best about it
"Since we have been using the Welkom Editor Email Builder, we have saved a lot of time and each member of our team is completely autonomous in the production of our emails. The Studio's services have met our expectations very well. We recommend Dolist for the quality of its expertise and its very valuable personalised customer care. "
Bordeaux Airport
"We have been working with the Design Dolist team for over a year and we are very satisfied. Together, on a daily basis, we build quality communications, via email and in app news, for our customer base and prospects. The Studio Dolist team is very good at listening, being proactive and giving advice. They have delivered modern, impactful and effective emails. "
Netatmo
"Our new newsletter template fully meets our concern for consistency and uniformity in our external communications. In addition to respecting our graphic charter, the user interface is intuitive, very modular and ergonomic, as well as it guarantees, in the long run, the readability of the content and a very satisfactory aesthetic. In addition, the Dolist teams were able to demonstrate a flawless reactivity to adapt to our needs and requirements. "
Agence du Numérique en Santé
"We are very satisfied: besides the good value for money, the tool has met our needs because we have gained in autonomy, no need to go back and forth with the agency as was the case before. We have gained in responsiveness and speed of execution, everything is customisable. It really allows us to be responsive. "
SantéClair
"In the communications department of France Stratégie, we use Welkom Editor on a daily basis. Thanks to this tool, we have put in place a complete newsletter offer with complete autonomy and flexibility."
France Stratégie
"Our new templates benefit from our work with the Design System to propose harmonised interfaces guaranteeing accessibility for all citizens. Dolist was able to provide us with advice on the specific case of e-mail accessibility, particularly through its management of Dark Mode. "
Government Information Service