Increase the attractiveness of your emails with personalised communications
Let your creativity run wild! Whether it's content or design, Welkom Editor gives you the flexibility to customise your email messages and engage your audience.

Emails to match your image
Customise your email communications in line with your graphic charter in just a few clicks.

Unlimited email design integration
Enjoy the freedom to integrate your graphic elements as you see fit.

Email content customisation
Make your email communications unique to your contacts by integrating your customisation variables.

Dynamic personalised content
Bring your messages to life with animated content elements and capture the attention of your audience.
Customise the content of your sendings
Fully customisable email template content and ready-to-use blocks (fonts, colours and multiple other formatting options)
 1-click integration of customised variables to display information that is specific to your contacts
 Automatic transformation of customised variables in accordance with your router's practices when exporting or synchronising your messages
 Animated email content blocks: countdown, weather, carousel, video, animated GIF, etc.
 Dynamic customisation of your emails based on the third-party data feeds available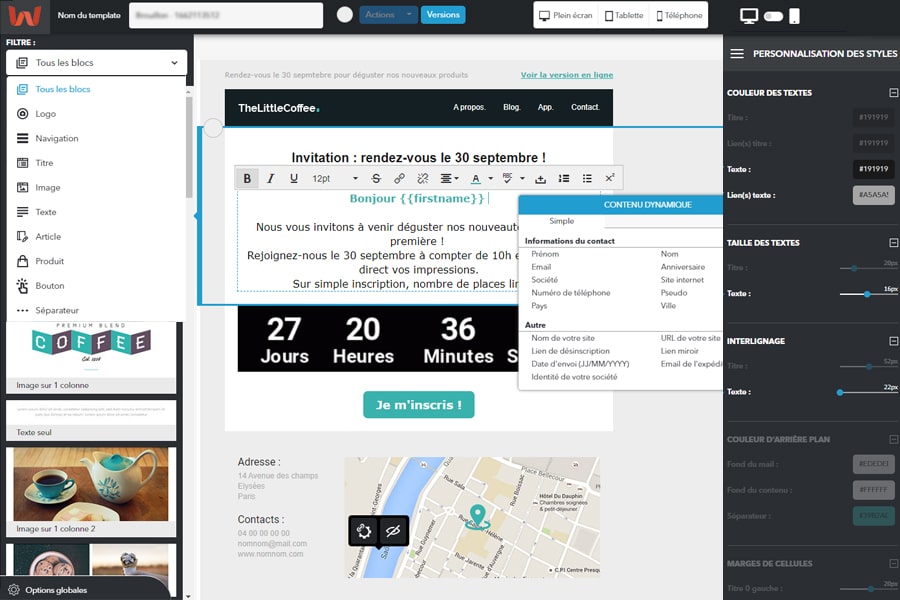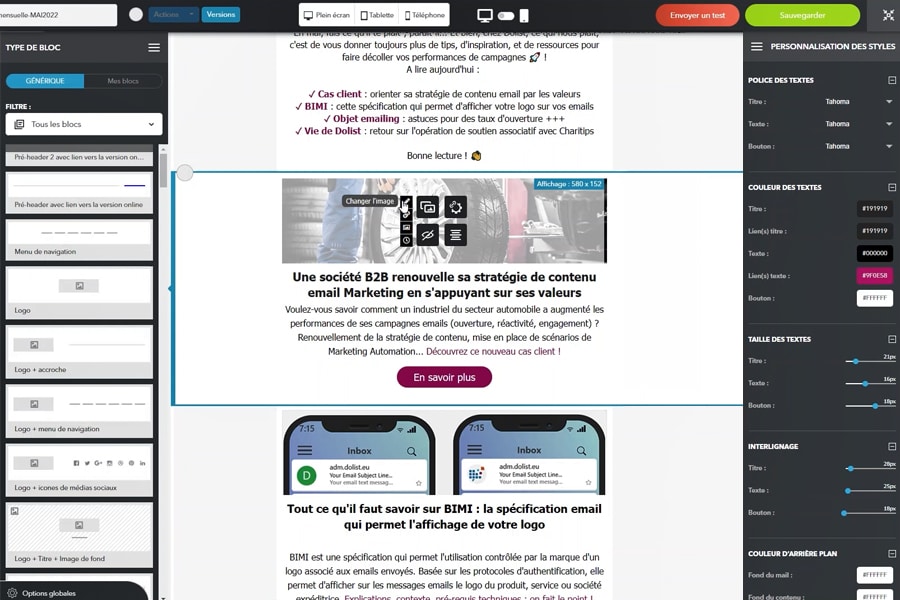 Design your emails the way you want
Your visuals stored in your own integrated media library
 An advanced integrated image editor to modify, crop or create effects, without having to use another tool
 Customise the visual rendering of your messages in a few clicks with the multiple style options available (colours, margins, line spacing, background…)
 Save your own message templates and content blocks customised according to your graphic charter in a personal library
 Your users can respect the elements of your graphic design thanks to a locking system
 Graphic customisation of your mobile versus desktop versions
 Advanced modifications possible via the expert mode to edit the HTML code directly
FAQs on customising your email content and design with Welkom Editor
You can incorporate variables specific to your delivery system (also known as shortcodes) into your message which will allow you to customise the content to your recipient. For example, you can automatically display your contact's first name or any other information present on your sending platform (last product purchased, favourite shop, birthday, link to the last product visited, etc.).
Yes, you can. You can create and save customised message templates or content formatting blocks with your logo, colours, fonts, call-to-action styles, header and footer content, etc. A locking system ensures that these elements can be reused consistently by all members of your team and always in accordance with your graphic charter.
The message templates and content blocks customised to your graphic charter can be created independently or delegated to our Design & Digital Studio..
Welkom Editor provides a media library where you can simply upload and retrieve your different visuals for email messages. You can then integrate them into your designs with a single click. Welkom Editor automatically adjusts the size of your image to fit the block used in your email, reducing the weight of the image.
Welkom Editor's advanced image editing feature allows you to make changes to your email visuals without leaving the interface: crop, rotate, add filters, effects, shapes or text, optimise brightness, etc. This means you don't need to use any other software and you can optimise your time.
Currently, Welkom Editor allows you to access external data feeds from Adobe or Nosto solutions to automatically customise email content based on the recipient. Welkom Editor is open to any future developments and our teams can investigate the integration of data from other technologies upon request. Challenge us!
Up to you! You can host your email designs on Welkom Editor and even set up your own domain name so that your images appear with the URL https://www.monsite.fr/monimage.jpg instead of https://wlkm.io/monimage.jpg. But you also have the option of using your own hosting services, following your usual practices.
In order to optimise the visuals and user experience on the phone, Welkom Editor currently allows you to adapt and modify the images in the mobile version of an email message from those in the desktop and tablet versions.
Welkom Editor offers dynamic content blocks to animate your emails and capture the attention of your contacts: countdown timers, weather reports for your contacts' city, carousels, video. You can also upload and integrate animated gifs and cinemagraphs that you have previously created – or delegated to our Design & Digital Studio or any other agency.
However, you will need to be careful about the compatibility of these elements with the different email services, such as video, which may not be correctly interpreted by inboxes.
Discover the other features of Welkom Editor