Your messages are professional, inclusive and sustainable
Without any technical knowledge, address the performance challenges of the email channel while taking into account the expectations of your audience and your organisation in terms of more responsible email practices.

Délivrabilité
email
Automatically optimised HTML encoding to help your emails reach their destination.

Responsive Design
Your communications are guaranteed to be Responsive and to adapt effortlessly to all screens.

Digital accessibility
Reach out to all your contacts: inclusive emails in a few clicks!

Towards a greener email
Take a more responsible approach with lighter, less energy-consuming communications.
Your emails optimised for responsiveness and deliverability
Automatic adaptation of your email messages to different reading devices
 Real-time display of your creations on computers, tablets and mobiles
 Customisation of the images in your sendings on mobile versus desktop versions
 Automatic integration of HTML encoding specific to email deliverability
 Multi-messaging services test to verify the correct display of your messages on multiple messaging systems (webmails, desktops, mobiles, active dark mode)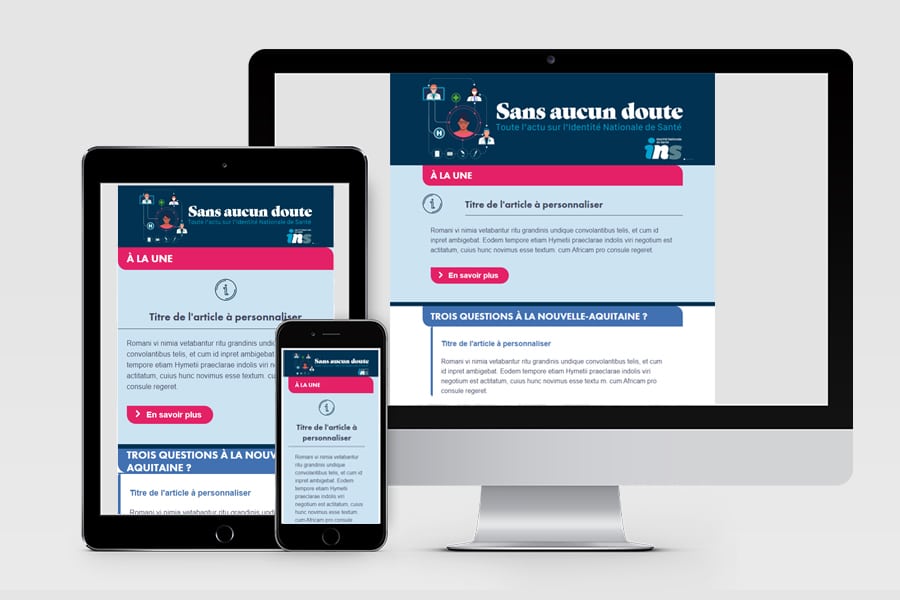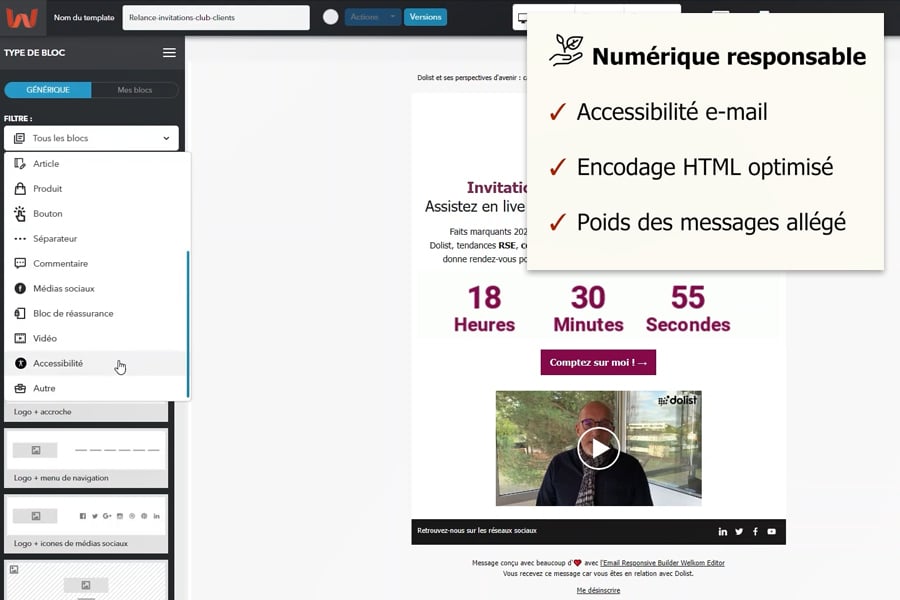 More responsible email communications
Ready-to-use content blocks optimised for digital accessibility, in compliance with current standards (W3C-WCAG and RGA)
 Visuals and images automatically adjusted in format and size to reduce the weight of your communications
 Optimised HTML encoding to reduce the weight of your emails
 Active involvement in the development of Welkom Editor, a deliverability specialist and Digital Manager of Dolist, a French provider of email delivery services with over 20 years of experience.
FAQs on Responsible, Deliverability Optimised and Responsive Email from Welkom Editor
All the email templates you create using our Email Builder and the pre-usable content blocks are guaranteed to have a Responsive design. They will automatically adapt to the device and screen size on which they will be displayed to your contacts. You can simulate how your email will look on all three screen sizes (computer, tablet and smartphone) in real time via the preview feature of our tool and also customise the mobile version if it is too image-heavy for instance.
None of the email tools strictly follow the W3C (World Wide Web Consortium) standard language and each one interprets the HTML code of their email messages differently. Many precautions must be taken to optimise delivery (contact management, email design, content, routing practices and tools). Welkom Editor only deals with the technical aspects of email design so that the HTML code is adapted to the specificities of this channel: "table" structure, languages limited to HTML and CSS, adapted tag for the definition of styles and image widths, encoding of special characters, automatic reduction of images and message weight, etc.
Welkom Editor also benefits from the experience of Dolist, provider of the solution and French specialist in email routing since 2000. Its development was carried out by its own technical teams, who have integrated all their know-how in terms of routing quality and sender reputation management. Its deliverability teams and its Design & Digital studio are also strongly involved in the development of the tool and stimulate the development of new features or the integration of trends according to the evolution of email marketing.
Absolutely! Our technologies include a very practical "Email Rendering" feature. With a single click, you can run a display test of your email on many email customers, webmails and browsers on the market, as well as on desktop, mobile and tablet devices and in Dark mode. More than fifty in total. Ideal for ensuring that your creation is as you expect it to be, regardless of your contacts' equipment.
Our Email Builder incorporates content blocks which have been optimised for digital accessibility in accordance with the design standards in force (W3C-WCAG and RGA). Their use thus guarantees the creation of inclusive email communications, i.e. those which are easy to read, use and interact with for all users, including those with a visual, auditory, motor, intellectual and/or cognitive disorder or disability – temporary or permanent.
At the same time, our Design & Digital Studio has developed a real know-how in the conception of "responsible" email messages since 2020. Thus, it can undertake the creation of more specific or complex personalised email templates combining compliance with digital accessibility criteria, reduction of carbon impact, Dark mode, etc. This can also be applied to your landing pages.
In keeping with Dolist's (the provider of the Welkom Editor solution) "responsible digital" approach, the design of email messages produced through Welkom Editor aims to optimise their overall weight. As a result, images and HTML code are automatically reduced to the bare minimum, without impacting the quality of the visual rendering. Lighter and therefore less energy-consuming, the messages also perform better in terms of deliverability. This is a virtuous circle which we strive to work on through each development of our tool.
To go even further in terms of eco-design, our Design & Digital Studio can also create for you templates and/or blocks of personalised email content which are more advanced in terms of reducing carbon impact, creating optimised design or even Dark mode.
Our Email Responsive Builder is hosted in a French data centre, in a private clean room, with secure access limited to authorised staff.
Our customers' data is hosted in a contractual framework of strict confidentiality and is isolated. All sensitive data and customer data are stored in France, on a SAN (Storage Area Network) via a dedicated internal fibre optic network which benefits from preventive maintenance several times a year. Protected by a firewall, your data is stored in a space completely dedicated to you, backed up daily and accessible at any time.
In accordance with the regulations, as a client, the data in your Welkom Editor account is available and stored as long as the client relationship exists. At the end of the contract, you are responsible for retrieving this data prior to the deletion of the account on the date of termination. Once the account is deleted, the data is stored for a period of 3 months before being permanently deleted.
Discover the other features of Welkom Editor