Guaranteed responsive e-mails
Ensure that your e-mail is displayed correctly on the different reading screens. Mobile, desktop or tablet, your content automatically adapts to all types of screens.
  Real-time rendering of your creations
You can visualise directly the final rendering of your email messages thanks to Welkom Editor's optimised WYSIWYG editor.
  Your e-mails optimised for deliverability

Easily promote the arrival of your messages. The Welkom Editor email Builder automatically integrates specific HTML encoding inherent to the e-mails and deliverability rules.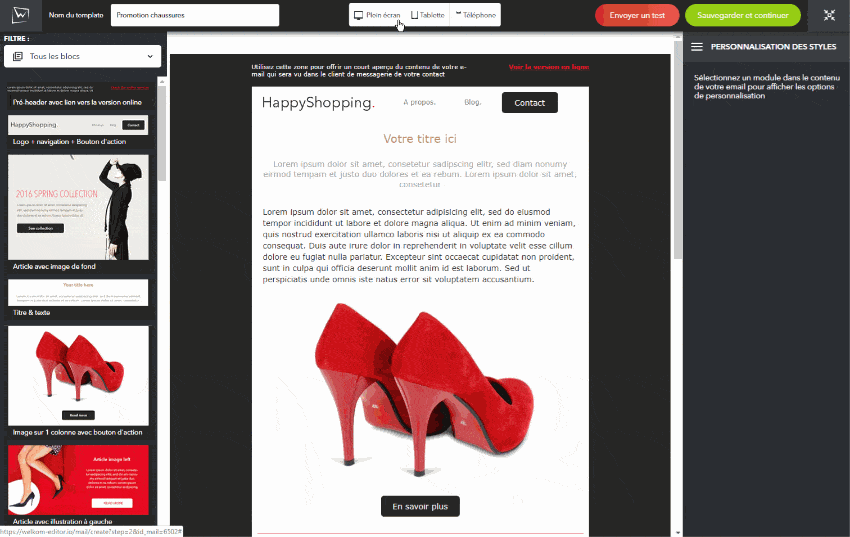 Customise your email images on mobile devices
Go further in the mobile attractiveness of your email content by customising the display of images compared to the destkop versions, without penalising the weight or deliverability.
  Email Rendering/Tests for multiple messaging systems
Check that your e-mail messages are correctly displayed on the different messaging systems (web mails, desktops and mobiles). Welkom Editor, through the Email On Acid service, allows you to preview the rendering on more than 40 different tools.
  Sending of integrated Draft
Get your email creations and content validated by the different members of your team. The sending of Draft is instantaneous, unlimited and directly integrated into Welkom-Editor.
You might also be interested by these features:
The simplest and funniest E-mail builder

A collaborative e-mail builder

The E-mail builder for multiple email solutions