Centralisation of your creations
Centralise and securely store your different Email creations within the Welkom Editor interface. This way, you can keep control of all your messages, even in case of changing your email solution.
  Collaborative creation of Emails
Reinforce the collaborative approach in your teams and focus on the performance of the collective intelligence. Welkom Editor allows you to work with several people on the same creation for a better productivity.
  User rights management
Reading, writing, edition, administration… Configure the use rights levels adapted to the roles of the people in your team.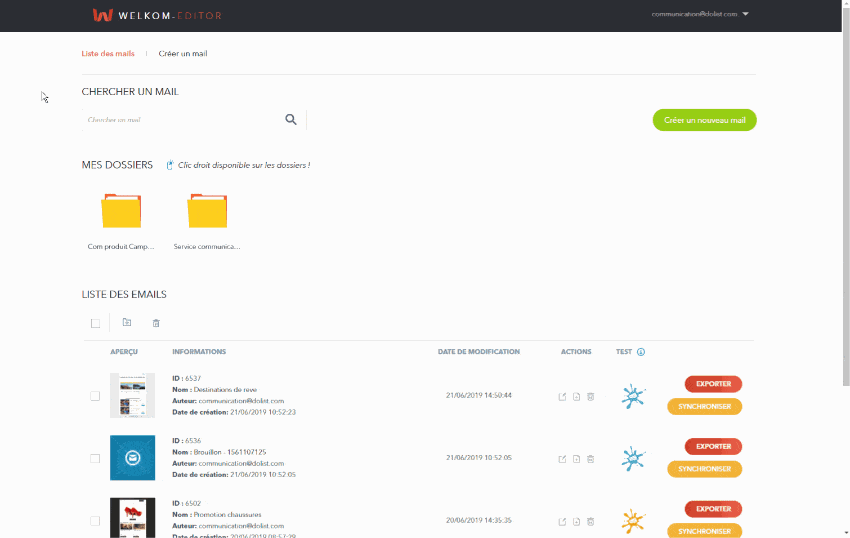 Locked blocks & compliance with your charter
Guarantee the compliance with your graphic charter by creating content blocks according to your image. Lock in Welkom Editor the specific elements according to your identity (header with logo, for example), save them in your personal library in order to use them again in a consistent way by the different members of your team.
  An expert mode for the geekiest
Go even further with the customisation of your email messages with the expert mode and by providing the most skilled team members with the possibility of directly editing the HTML code.
  Your collaborative workflow
Welkom Editor offers you a validation and comment management system for your drafts. Centralise the feedback from the different members of your team on your Email messages and get everyone validate all or some parts of the messages.
You might also be interested by these features:
The simplest and funniest E-mail builder

Create Responsive E-mails, optimised for deliverability

The E-mail builder for multiple email solutions